New Orleans Saints Team History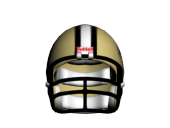 The National Football League awarded its 16th franchise to New Orleans on November 1, 1966. Appropriately, it was All Saints Day. In mid-December, 28-year-old John W. Mecom Jr., a successful Texas and Louisiana businessman, became the majority stockholder. Less than a month later on January 9, 1967, no one was surprised when the team was named the "Saints."

On March 8, the Saints launched their first season-ticket drive that produced 20,000 sales on opening day and 33,400 before the 1967 NFL season began. Eager to create as much pre-season fan enthusiasm as possible in a city not previously exposed to pro football, the Saints obtained three future Pro Football Hall of Famers for their 1967 roster. Paul Hornung and Jim Taylor, a Louisiana State grid hero, came from Green Bay and defensive end Doug Atkins came in a trade with the Chicago Bears.

The Saints literally took "The City That Care Forgot" by storm. They won five of their six preseason games and opened the regular season on Sept. 17, 1967 against the Los Angeles Rams before a packed house of 80,879 in Tulane Stadium. New Orleans fans will always remember John Gilliam's 94-yard touchdown return with the opening kickoff even though the Rams eventually won 27-13. A final game victory over the Washington Redskins allowed the Saints to match the 3-11 first-year record attained by Minnesota in 1961 and Atlanta in 1966. Most significant of all, however, was the average home attendance -- 75,463 per game!

The Saints made each home game a special event, a so-called "Mardi Gras in Autumn," with cheerleaders, jazz bands, precision-marching routines by high school and college bands, and weekly appearances of "The King" himself -- part-owner, chief cheerleader and trumpet wizard Al Hirt. New Orleans was destined to falter year-after-year on the field. Still, they managed to thrill their fans with some exciting victories and memorable moments first at Tulane Stadium and later at the 69,056-seat Superdome beginning in 1975. No doubt the most famous play was Tom Dempsey's record 63-yard field goal in 1970 that enabled New Orleans to beat Detroit 19-17 on the game's final play. Outstanding players such as quarterback Archie Manning, running back George Rogers, linebacker Rickey Jackson, wide receiver Eric Martin and placekicker Morten Andersen were among those who played important roles as the Saints advanced toward respectability.

The Saints finished at 8-8 in both 1979 and 1983 but didn't have a winning year until their 21st season in 1987. That year, under Coach Jim Mora, the Saints won 12 of 15 games for a second-place finish in the NFC West. The Saints reached the playoffs four times in six seasons from 1987 to 1992 and won their only NFC West Championship in 1991.

The winning era in New Orleans was ushered in on June 3, 1985, when a New Orleans businessman, Tom Benson acquired the franchise from Mecom. Benson immediately hired Jim Finks, a future Hall of Fame administrator, as president and general manager, and Mora as the head coach. The pair soon turned the Saints into one of the NFL's most potent franchises. Mike Ditka, the Hall of Fame tight end and former Chicago Bears coach, guided the team from 1997-1999. In 2000, former NFL linebacker and long-time assistant Jim Haslett was hired as the new head coach.